Introducing Faux Mink Individual Lashes
Get fuller and voluminous lash sets with CharmLash faux mink individual lashes. Our faux mink individual eyelashes are made from high-quality Korean Polybutylene Terephthalate (PBT) fiber, which is widely known for its flexibility, stable curls, and heat resistance, as well as its least chance of causing allergy compared to other materials. They're made to look and feel like real mink lashes. Therefore, these lashes are soft, lightweight, and comfortable to wear from day to night, providing a natural as well as a bold look that is perfect for any occasion. Our faux mink individual eyelashes are quite glossy, curled, tapered to perfection, not greenish, and versatile as well, making them a must-have for any lash extension enthusiast. Plus, with our faux mink individual eyelashes, you can create a bold and dramatic look that could last for days. CharmLash's vegan faux mink lashes are now available in different curls, lengths, and thicknesses.
Faux Mink Individual Lashes
Faux mink individual lashes have quickly become one of the most popular types of lash extensions for those who desire the look of fuller, voluminous lashes without the hassle of applying mascara every day. These lashes are made from synthetic fiber that mimics the look and feel of real mink fur, but without the ethical concerns that come with using animal products.
1. The difference between real mink and faux mink individual lashes
Real mink lashes have been a popular choice for years due to their natural look and feel. However, with the growing concern for animal welfare, faux mink eyelash extensions individual lashes have become an increasingly popular alternative.Real mink lashes are made from the fur of minks, which are a type of weasel. Lots of wholesale real mink lashes manufacturers claim that the fur is collected by brushing the minks, rather than harming them, but many people still object to the use of animal products in beauty treatments. Mostly because animals are kept in small cages for commercial purposes only, rather than living their lives in a natural environment. On the other hand, faux mink individual lashes are made from synthetic materials, which means they are cruelty-free and vegan-friendly. Therefore, using faux mink lashes can reduce the risk of allergic reactions or animal cruelty.
Besides, not only are the materials different, but so is the manufacturing process for these two types of eyelashes. After being "humanely" obtained, the best individual mink lashes are washed/sterilized and treated with a chemical to curl the hair. When lashes wholesale mink come into contact with water, the chemical is neutralized and the lashes return to their original state (basically, they uncurl). This means you'll need to use an eyelash curler on a regular basis. Faux mink individual lashes are permanently curled and do not have this issue. They appear to be nearly identical.
2. The key features of faux mink individual lashes
Some of the key features of Faux Mink Individual Lashes include:
Material: soft, light-weight & cruelty-free Korean PBT fiber.

Dense: The density of lashes per strip is very high, there is no hole between lashes. 

Quite glossy.

Not kink, not stiff.

Not sticking to neighboring lashes, no glue residue.

Latex-free, formaldehyde-free.

Natural-looking: These lashes are designed to look and feel like real mink hair, so they create a natural-looking, fluffy effect.

Stable Curl: These lashes are made from Korean Polybutylene Terephthalate (PBT) fiber, a plastic that has remarkable durability against deformation. 

Customizable: False eyelashes mink come in various lengths, thicknesses, and curls, making them customizable to your desired look.

Long-lasting: With proper care, these lashes can last up to 4-6 weeks, depending on your natural lash growth cycle, lash application & aftercare

No greenish: Absolutely no green shade appears, even after prolonged use of faux mink lashes.

No animal testing.
Faux Mink Lashes CC/C+Curl
CC curl lashes are designed to mimic the natural curve of your lashes, giving you a subtle yet stunning curl that looks like you were born with it. CC lash curl extensions blend seamlessly with your natural lashes, creating a fuller, more voluminous look without looking overdone.
1. The curl description
Basically, C curl and CC curl look alike, but eyelash CC curl is a more dramatic curl option. CC curl eyelashes have a stronger and tighter curve, creating a bolder and more glamorous effect.
2. The features of faux mink individual lashes CC/C+Curl
Along with all the key features of Faux Mink Individual eyelash extensions that are mentioned above, CC curl lashes also have some following features:
Make your eyelashes more open, voluminous and brighter.

These lashes also provide a more natural look compared to other dramatic lash styles.
3. The applications of faux mink individual lashes CC/C+Curl
CC curl eyelashes are suitable for clients who desire a more dramatic and bold lash look. It is particularly popular among clients who want to achieve a glamorous and eye-catching appearance. CC curl is also well-suited for clients with straight or downward-facing natural lashes, as it provides a significant lift and upward curl.
Additionally, clients who prefer a more pronounced curl that stands out and grabs attention may opt for CC curl.
CC curl lashes can be used for classic sets, volume sets, and hybrid sets. 
For better results when applying Faux Mink eyelashes, you can consider using Ultra Volume Adhesive.
4. Thickness
Faux mink individual lashes CC/C+curl are available in 0.03, 0.05, 0.06, 0.07, 0.085, 0.1, 0.12, 0.15, 0.18, 0.2.
5. Length
You can choose your most suitable length from the range of 4-25 mm
6. Technique:
Techniques in using Faux Mink Individual lashes: Lonely fan method, Fan off the strip, Wiggle, Rainbow, Sticky Dot.
Trustworthy Wholesale Faux Mink Individual Lashes 
Are you looking for a trustworthy faux mink eyelash extensions wholesale or faux mink eyelash manufacturer? Look no further than working with CharmLash- a wholesale individual eyelashes manufacturer for private label products. Not only does this approach offer cost savings, but faux mink eyelashes wholesale manufacturers also provide a range of customization options to cater to your specific needs.
Moreover, all of our products are made of 100% cruelty-free, high quality Korean PBT fiber, which is soft, lightweight and safe for health. Every phase of CharmLash's eyelash manufacturing is under strict supervision. We ensure that our products would satisfy even the most demanding customers.
Private Label Service & OEM/ODM 
At CharmLash, we commit to providing the best faux mink individual eyelashes, with the most reasonable individual lash extensions price. We understand that your brand is unique, and your products should reflect that. That's why we offer private label solutions that cater to your specific needs. Our process for creating private label products, as well as private label mink lashes is thorough and tailored to ensure that your brand stands out in the market. 
1. Private label
We offer different lash trays for you to choose from, including: 8 lines, 10 lines, 12 lines, 14 lines, 16 lines, 18 lines, 20 lines, 22 lines, 24 lines, 26 lines, 28 lines.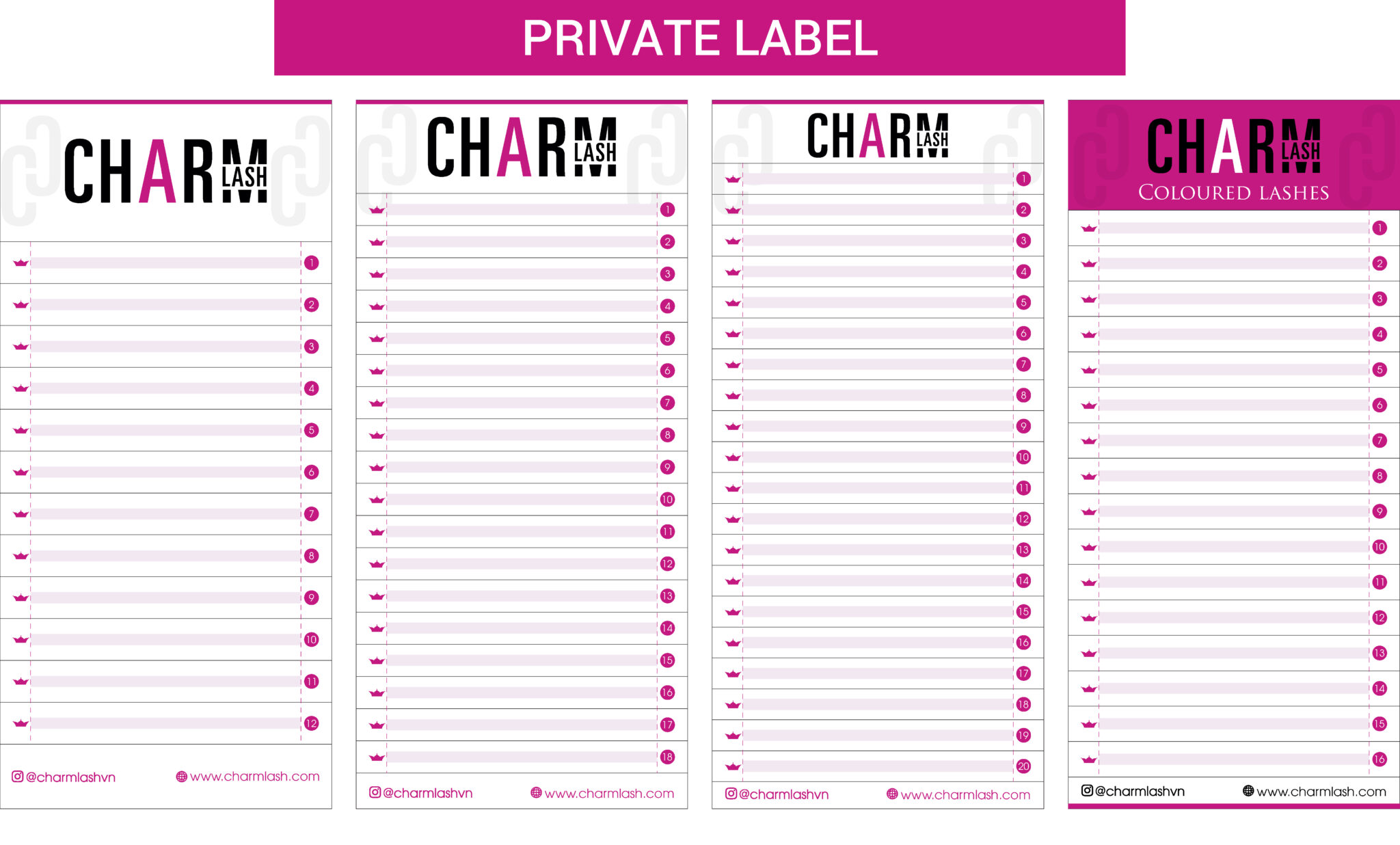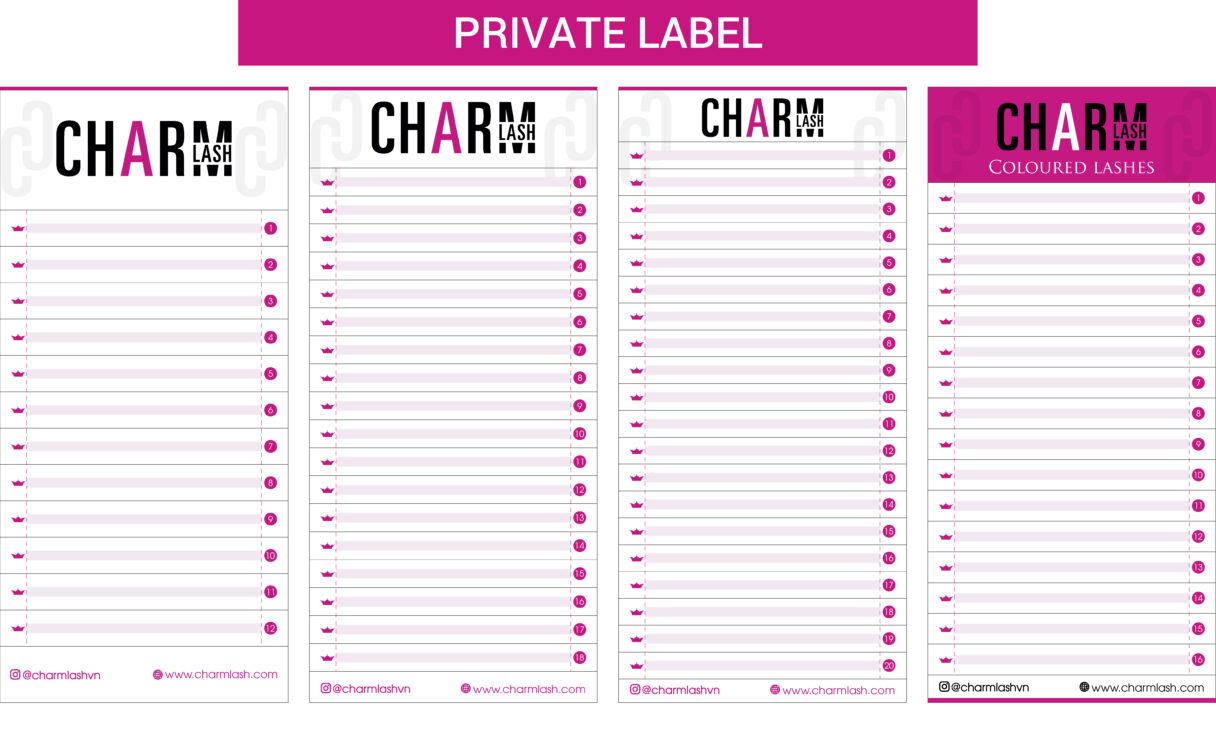 2. Customize packaging box
Our customization services allow you to create packaging that aligns with your brand's aesthetic and messaging. Whether you're looking for a simple design or something more complex, our team has the expertise to bring your vision to life. We work closely with you to ensure that your packaging is not only visually appealing but also functional and cost-effective.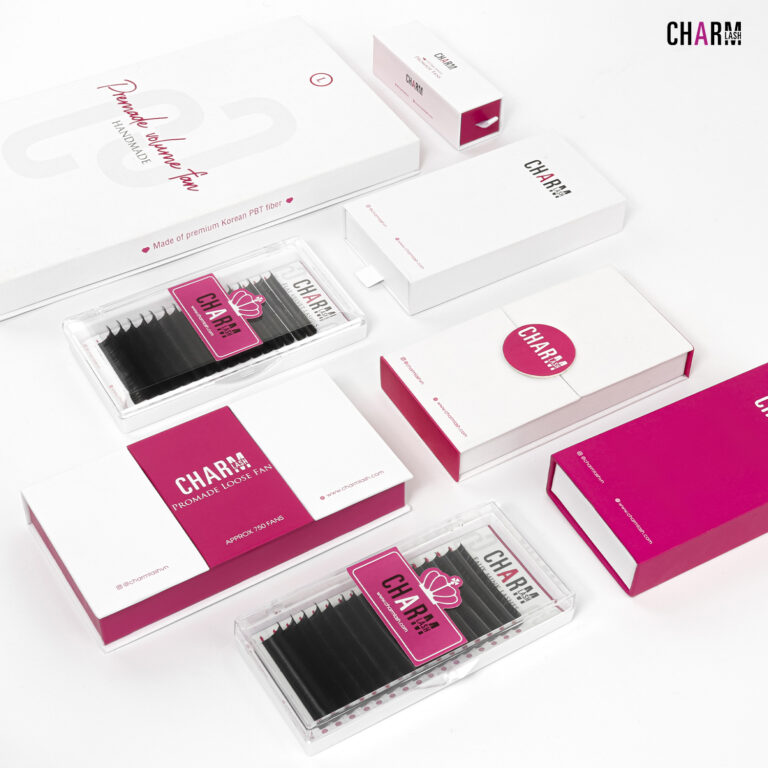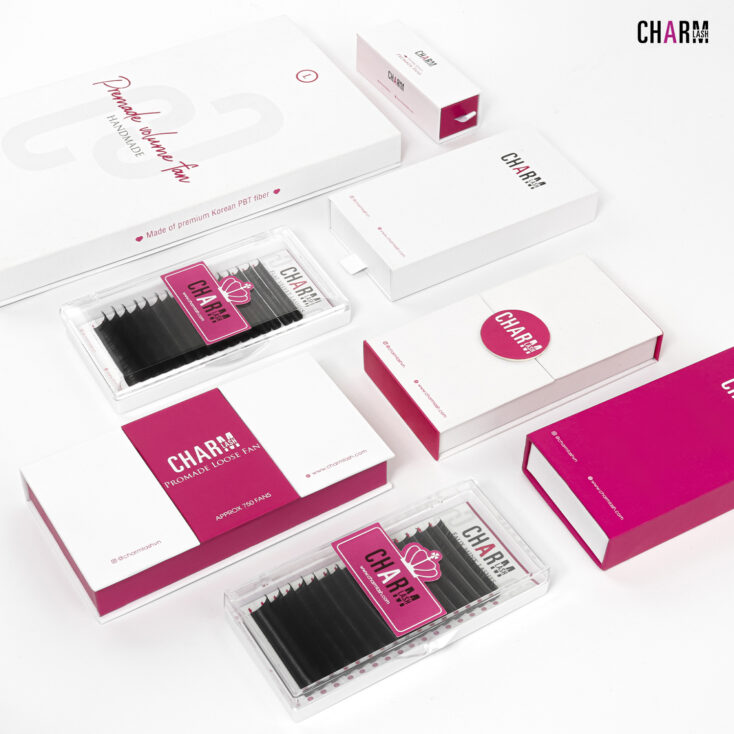 3. Customize curl, length and thickness
At our lash company, we understand that every client is unique, and that's why we offer a wide range of curl patterns, thicknesses and lengths to choose from.
You can take a look at our Faux Mink Lashes for your most suitable curl, length and thickness.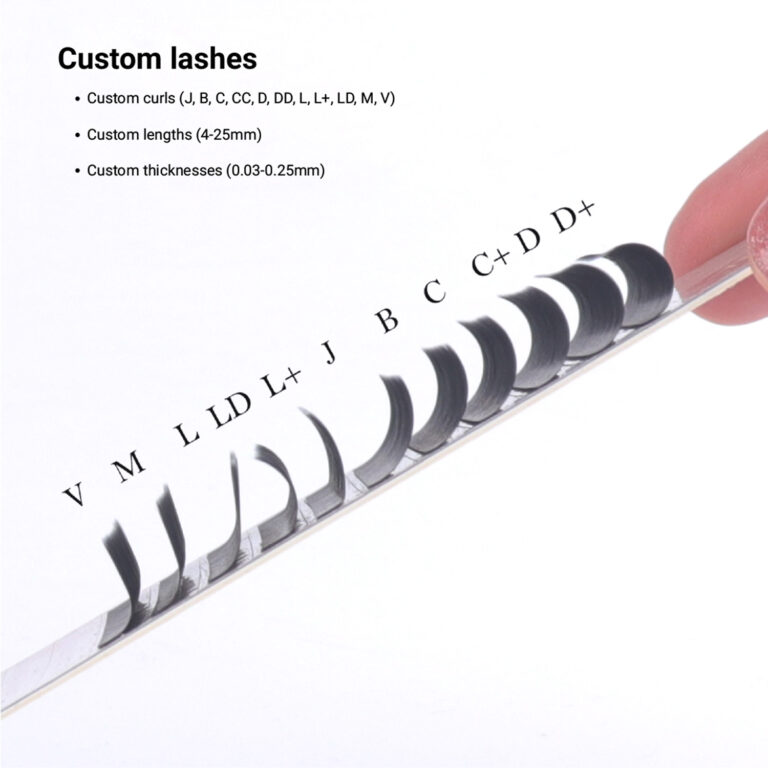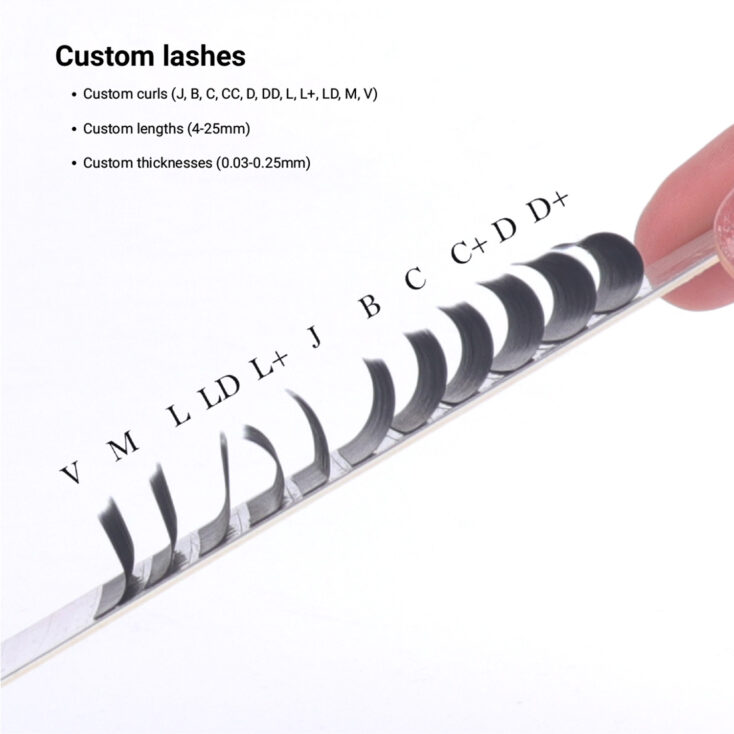 4. Customize glue tape
With Faux Mink lashes, we offer different glue tapes for each suitable thickness:
Brown tape 2mm & 3mm: 0.03mm, 0.05mm, 0.06mm, 0.07mm 

Orange tape 2mm: 0.07mm, 0.085mm, 0.1mm

Yellow tape 2mm: 0.07mm, 0.085mm, 0.1mm

Green tape 2mm & 3mm: 0.085mm, 0.1mm

Blue tape 3mm: 0.18mm, 0.2mm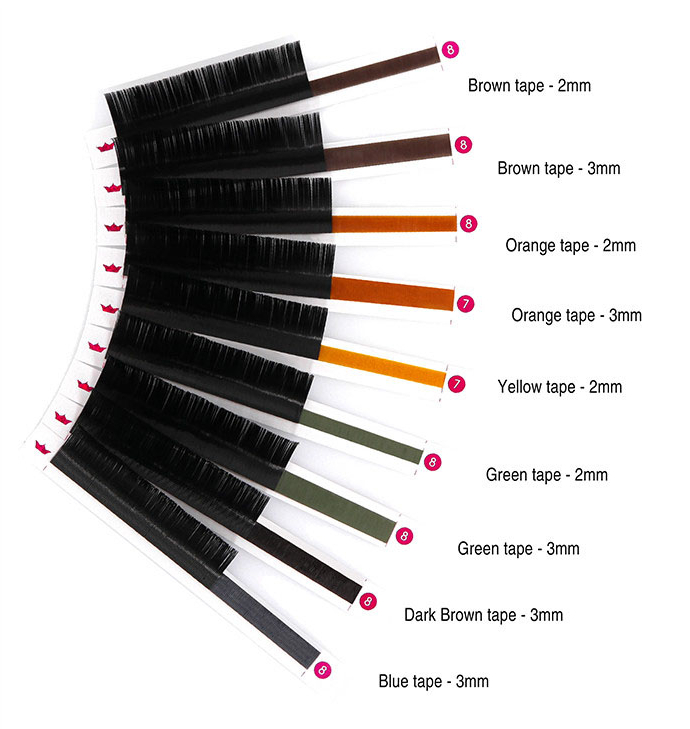 5. Customize silver foil backing and coating paper
Silver foil backing: can be reused many times and easy to pick up from the bottom. 

Coating paper: economical, remove easily, and less reusable than silver foil.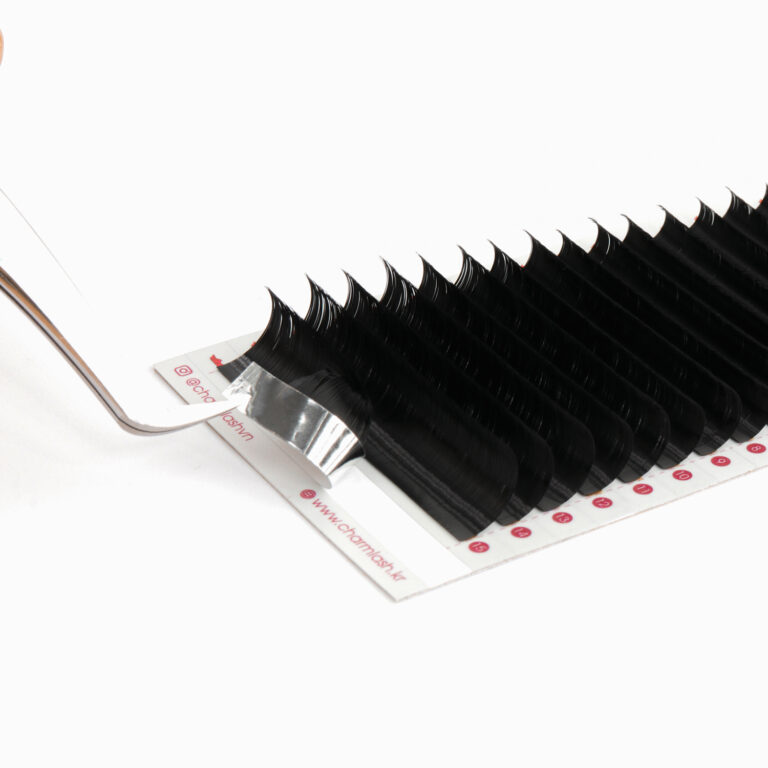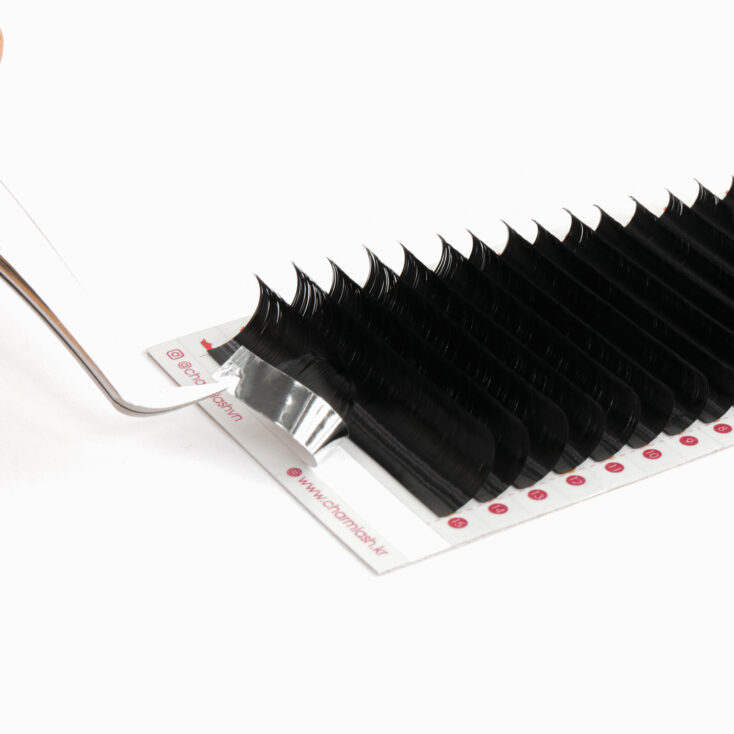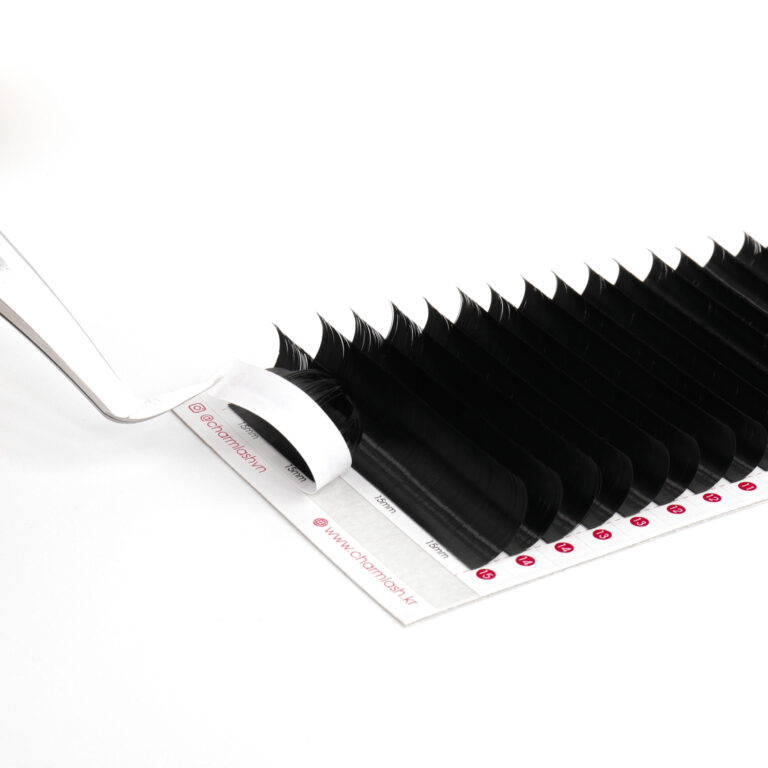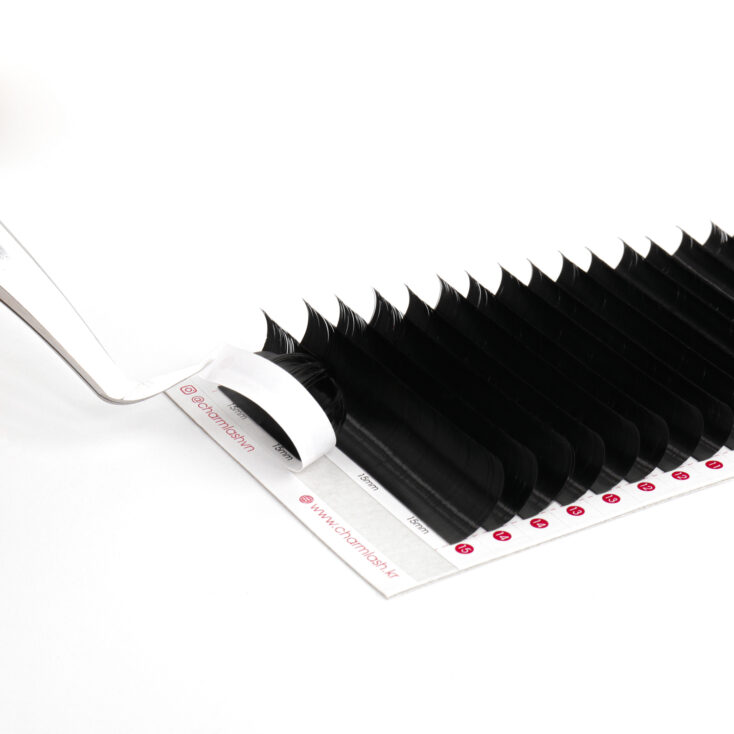 6. Certificates
CharmLash's eyelash extensions are certified by the most trusted organization – The Korea Certification Mark.
High-grade Korean PBT Fiber won't cause any allergic reaction on human skin and eyes or damage to the environment compared with all other eyelash extension materials. Our materials are cruelty-free, eco-friendly and no testing on animal. As a professional wholesale eyelashes supplier, we always provide the best Korean materials for our customers all over the world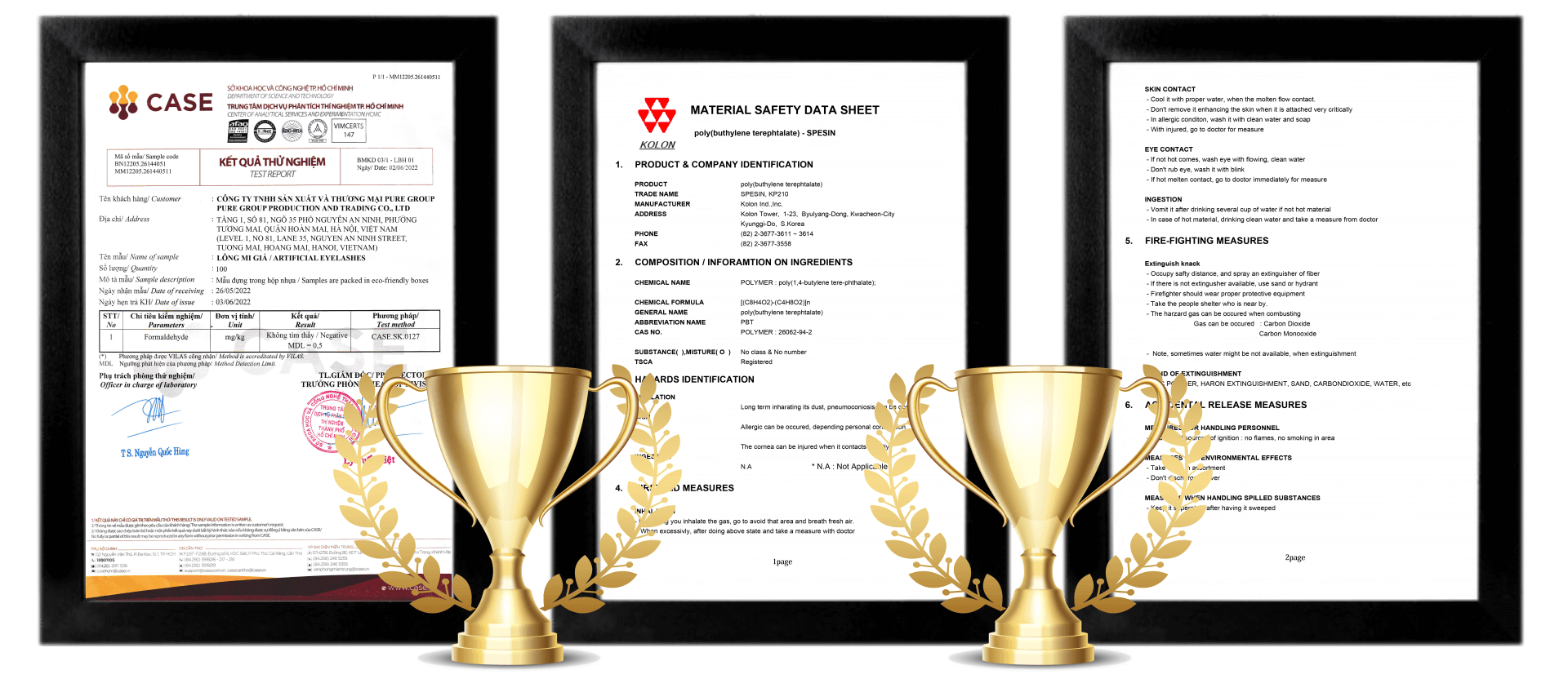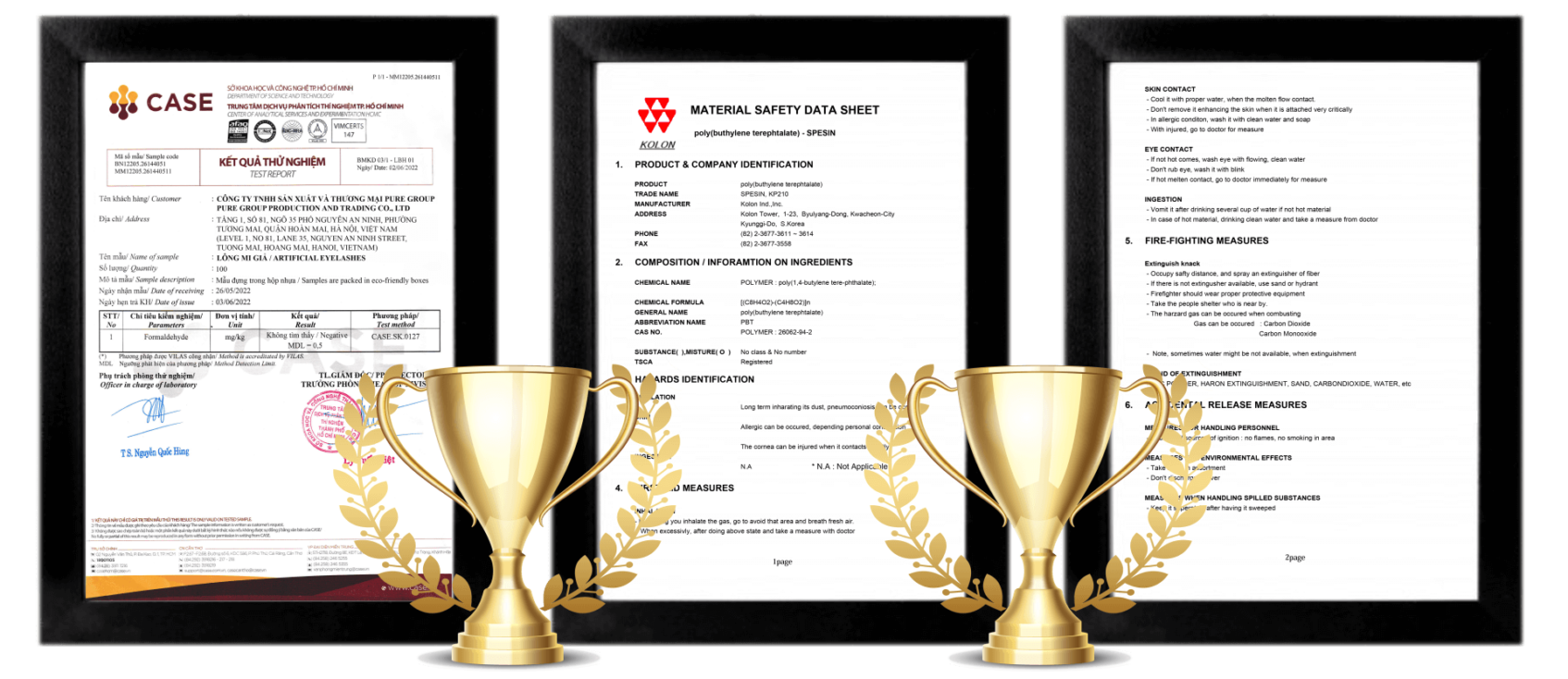 Faux Mink Individual Lashes are the perfect choice for clients who love fuller and voluminous lash sets. This type of lashes is made from soft, lightweight, cruelty-free Korean PBT fiber that is comfortable and safe to wear all day, making them a must-try lash extension for any lash enthusiast. 
Follow CharmLash on Instagram to update more lash products from us.
If you are interested in CC/C+ curl faux mink lashes, you might also want to take a look at other related products, such as: