As a wholesale Korean eyelash extensions ourselves, CharmLash received our certificate from KOLON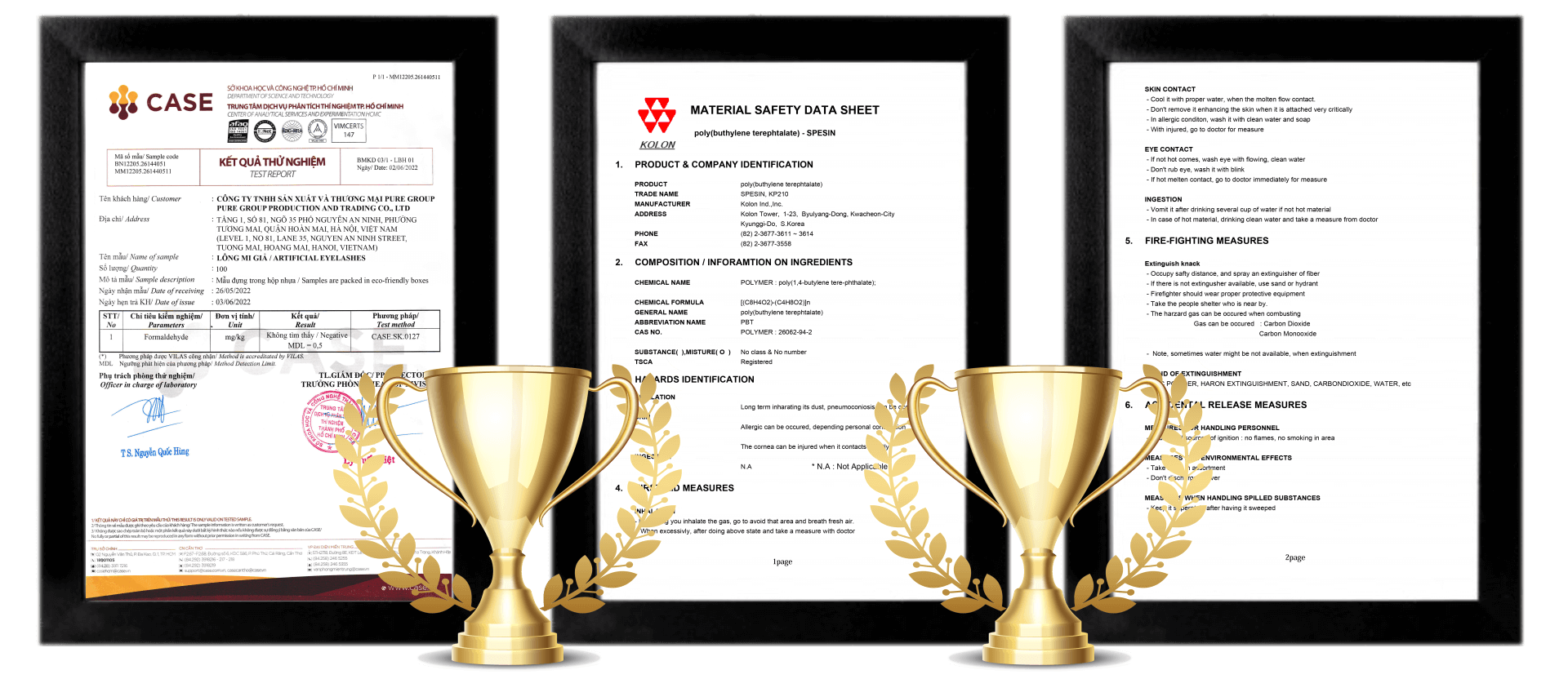 At CharmLash, we are not only an international eyelash extensions manufacturer and supplier for wholesalers, lash artists, salon owners, distributors but also against animal cruelty.Therefore, we do not and will never use real mink fur for lash extensions manufacture. We are known as cruelty-free wholesale Korean eyelash extensions brand ourselves.
CharmLash has obtained Material Safety Data Sheet from KOLON. We use high-quality Korean PBT from Korea which is cruelty-free and eco-friendly
PBT won't cause any allergic reaction on human skin and eyes or damage to the environment compared with all other eyelash extension materials. You probably might have heard about Silk or Faux Mink Lashes, they are two names the manufacturers have come up with to make PBT's name sound more appealing.
– Silk : CharmLash Silk Eyelashes are made of Korean FPT fiber. What separates Silk from Mink Lashes, however, is not their material, but their weight, overall shape and softness. Silk Lashes have a much shorter taper than Faux Mink Lashes, which means that the body of silk lash stays thicker for longer. Because of their thick and full body, they work best in dramatic lash sets, and are the most common lash type used in classic sets. They are also well-known for their no greenish, matte appearance and softness which are their advantages compared with faux mink lashes.
– Faux Mink : CharmLash Mink Eyelashes are known for their natural, no blueish, considerably lightweight which incredibly resembles the look of our natural lashes. Most of the extension body is tapered, so each lash weighs up to 30% less than a silk lash. As a cruelty-free eyelash extensions brand ourselves, we do not and never will use real mink fur for lash extensions manufacture. Our Mink Lashes are designed by using Korea PBT fiber to imitate real mink fur, so they're the thinnest type of synthetic extension available. Therefore, they're often used in volume sets. In addition, their firmness makes it easier to create fans for lash artists compared with Silk Lashes
All of our products are made from medical grade, hypo-allergenic, and formaldehyde free , ensuring minimal irritation to your eyes and causing NO lash damage.