Eyelash extensions have been popular for years. It's important for lash artists to know a variety of eyelash extensions techniques to meet the changing needs of clients. One of the high demand and after-sought look is cat eye eyelash extensions. When you're pro at applying this lash style, you will benefit a lot from it.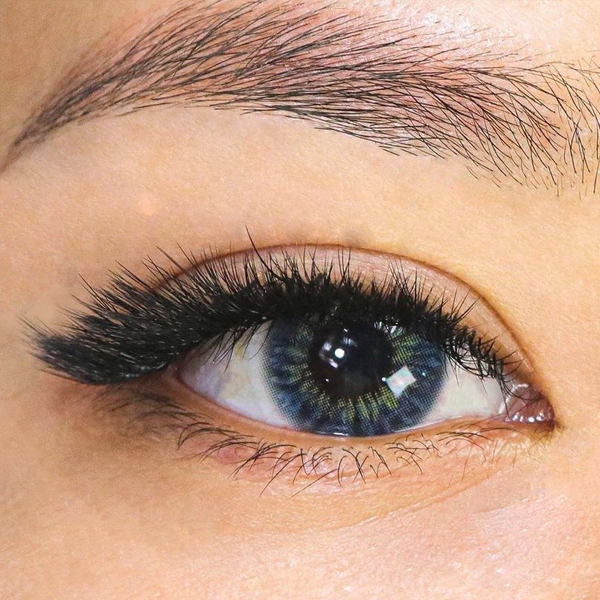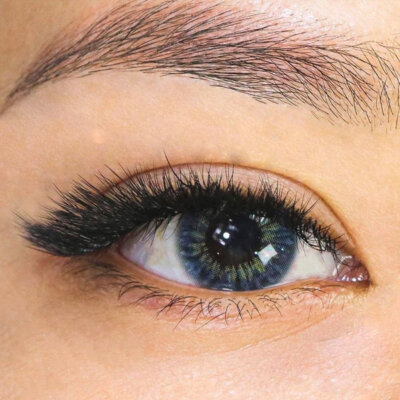 So, what are cat eye eyelash extensions?
       Cat eye style is a type of lash extensions. It features longer extensions towards the outer corner of the eye and shorter ones in the inner corner, which replicate the shape of winged eyeliner. Cat eyelash extensions create a sexy and alluring look while also making eyes appear wider and open.
You might get eyelash extensions for a variety of reasons, you could find that you're losing your real lashes, or that they weren't that thick naturally. By having eyelash extensions applied, you can confidently go around with thick and completely natural-looking eyelashes for weeks at a time.
You can also get cat eye eyelash extensions purely for personal aesthetics preferences. You got a thick natural lash already but want to slice up your lash set.
This lash style is one of the most popular lash extensions and can be worn either for any special occasions or daily wear.
Classic vs Hybrid vs Volume Cat eye eyelash extensions
Basically, there are three main techniques used with this style: Classic, Hybrid and Volume. The key difference between the three is the number of lash extensions used per natural lashes.
Classic cat-eye: one extension will be applied on 1 natural lashes. This is the the simplest and most natural-looking of the three styles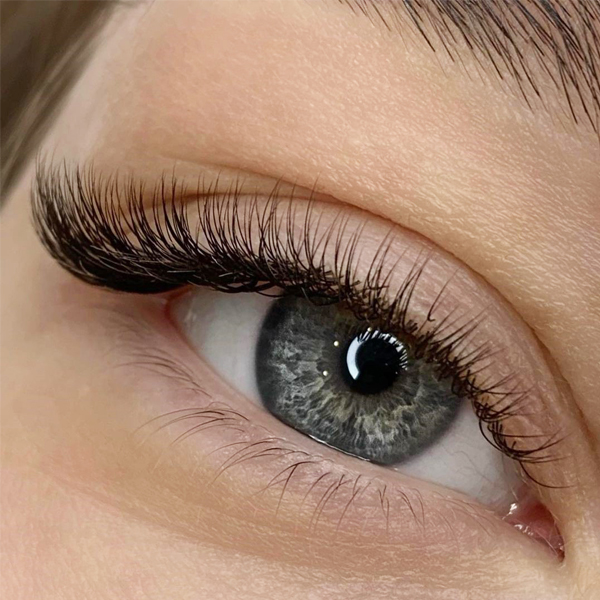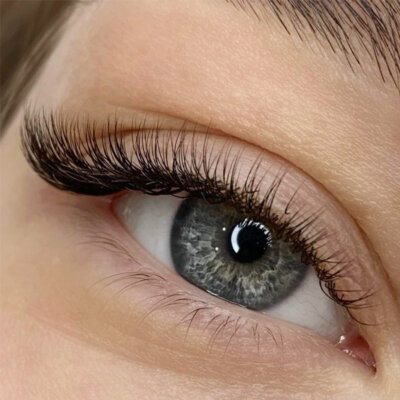 Volume cat-eye: use 2-5 extensions for every 1 natural lashes. This is the most dramatic of the three styles. You could technically use more than 6D, perhaps up to 15D, but that is known as mega-volume and is generally not a certain style you want to rock for daily wear.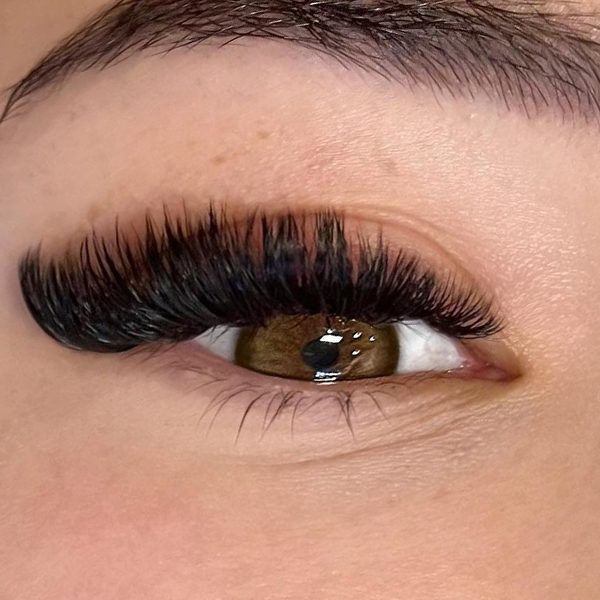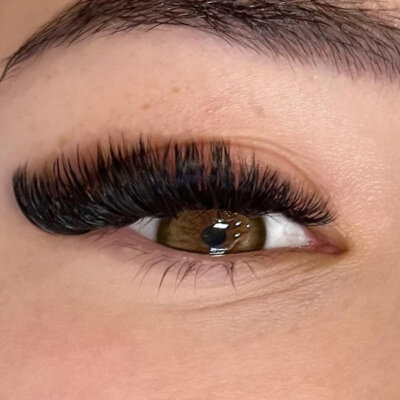 Hybrid cat-eye: are a mixture of both classic lashes and volume lashes at the ratio 3:7. This style is a huge plus for ones who want something a little bolder than classic lashes but a little less dramatic than volume lashes.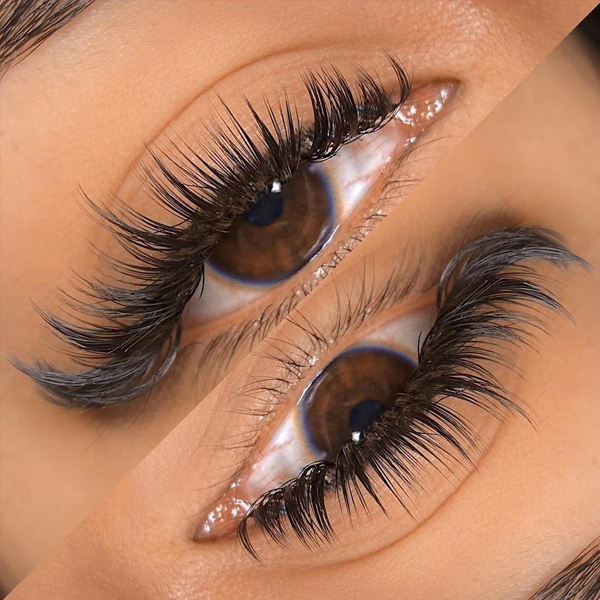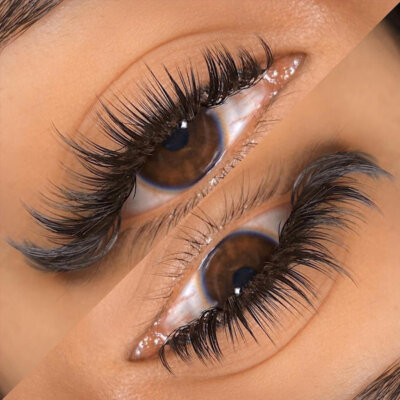 Who could wear cat eye eyelash extensions?
Anyone could rock the cat eyelash extensions, but some eye shapes will bsee the most dramatic changes
Round eyes: clients with round eyes will get the illusion of a different eye shape with the cat-eye look, With the extensions towards the outer corner of eye, their eye will appear longer and narrower than they naturally are. In other words, they help to balance out the eye shape and create a sultry look.
Deep-set eyes: women with deep-set eyes will benefit a lot from wearing cat-eye style.  The volume and shape of this type of lash extensions will make their eyes open and pop more than usual.
Ones who have thick natural lashes can apply cat-eye, which will give a bolder and glam look.
Cat eye lash extensions might be a minus to upturned or downturned eyes since they can make these eyes appear smaller and unflattering. Clients with wide-set eyes should avoid this styles too. Because it creates such a strong shape it tends to make the gap look wider.
Types of lashes to use for cat-eye style
To get a cat eye eyelash extensions appearance, you may utilize a variety of eyelash extensions types including faux mink lashes, silk lashes, cashmere lashes depending on personal preference as well as the natural lash heath.
Technically, there are 4 major curls including C, CC, D M and L mostly used for creating this lash style. C and CC will be chosen to attach from the inner corner of the eye to the middle of the eyelid as it makes eyes more open and widen. Whereas, L and M curls are perfect to go with the outer corner of eye due their elegant lift and elongated effect.
 You could find these above lashes in various lengths and thicknesses here:
C curl      https://charmlash.com/shop/eyelash-extension-supplies-c-curl-lashes/
CC curl   https://charmlash.com/shop/lash-extension-supplies-cc-c-curl-lashes/
D curl     https://charmlash.com/shop/eyelash-vendors-faux-mink-lashes-d-curl/
L curl      https://charmlash.com/shop/bulk-eyelashes-faux-mink-lashes-l-curl/
M curl     https://charmlash.com/shop/lash-vendors-m-curl-faux-mink-lash-extensions/
When choosing the lengths, there is a rule of thumb. Shorter in the inner corners and longer in the outer. A cat eye eyelash extensions set consists of extensions of different lengths. The most popular ones are from 8mm to 15mm based on the lengths of natural lashes as well as the client's desired look.
For ones who want to achieve an extreme cat-eye look which features a very short and flat inner corner and short, sharp outer corner, lengths around 3-10mm will surely create a fabulous eyeliner effect.
Cat-eye lash map
To get a perfect cat-eye look, it's important to understand the map, layers and curls. It takes a lot of practice to create this stunning look. Moreover, they have to carefully acknowledge the client's eye shape and the state of their natural lashes to see whether the client is a good candidate for cat eye eyelash extensions and to know what curls, lengths and thicknesses to choose for.
Below are the basic map for cat-eye style: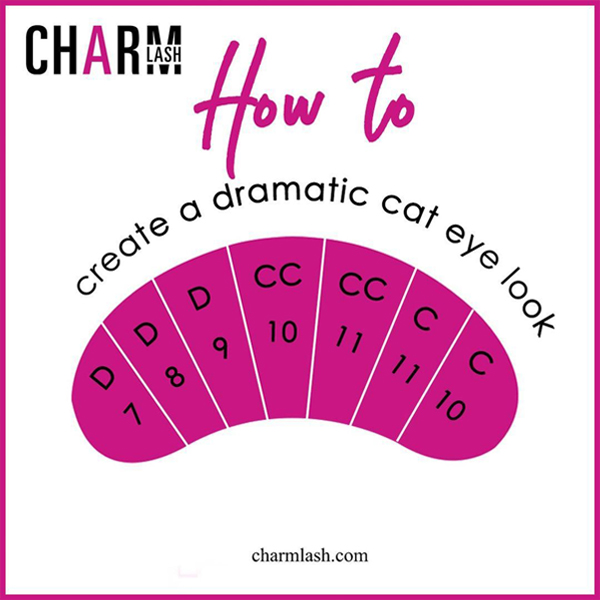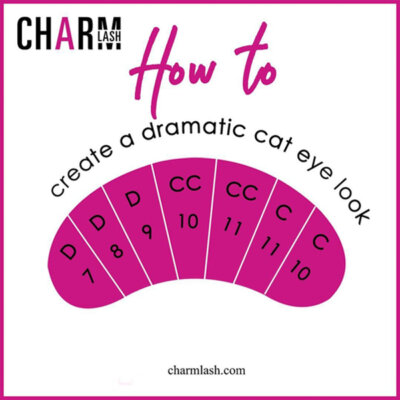 How to care for cat eye eyelash extensions ?
Like any investment, eyelash extensions require maintenance too. Below are something you need to keep in mind while wearing lash extensions:
–         Don't rub or pull eyelash
–         Avoid oil-based beauty care products on the lashes.
–         Remember to wash them regularly
–         Brush and clean lashes daily to keep clean, nice look as well as prevent us from eye infection
The after-care tips are all simple and easy to follow. The more you take care of your lash set. The longer it will stay on place with you!
Happy lashing! cat eye eyelash extensions
Learn more about eye shapes and find out the right lash style here