Eyelash glue wholesale supplier – Premium adhesive key features
As one of today's hottest beauty trends,eyelash extensions are in high demand. To make a perfect lash set, offering your clients a high quality lash material is a MUST. However, there is one thing that keep your clients coming back for the next appointment is the quality of glue. Hence, it's important to find a trust-worthy eyelash glue wholesale supplier when you want to stock lash adhesives. If you're cringe at wasting money on glue with poor retention, we're here to help.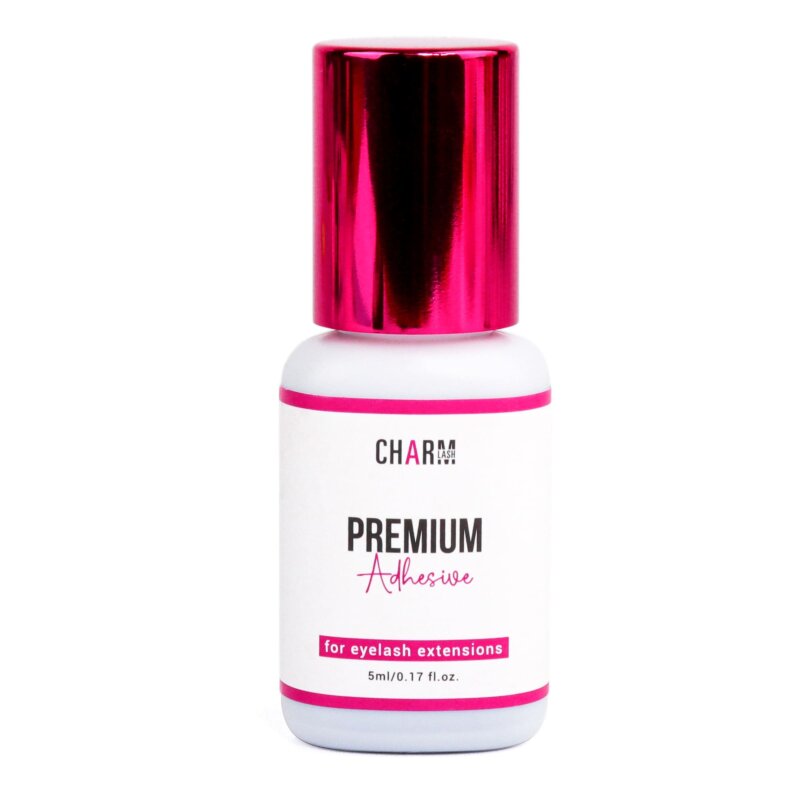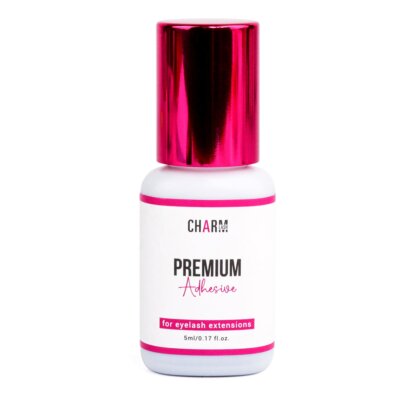 Featuring fast drying time around 1-2s and medium fume, Premium Adhesive is definitely a perfect option for highly skilled lash artists. Thanks to the special and advanced formula, this adhesive has an incredible bonding power and long-lasting retention, which helps to extend the extensions shelf-life up to 6 weeks. Premium glue is suitable for both classic and volume application.
You can take a look at our Premium Adhesive key features: 
Drying time:

1-2 seconds

Retention time: up to

6 weeks with proper care

Viscosity:

thin (like water)

Liquid color: Black

Fume:

Medium

Lash artist:

Professional and advanced

lash artists 

Technique:

Classic and volume

application.

Working temperature; 18-22℃ (64.4-71.6°F)

Working humidity:

45-60%

Client:

Never

use it for Self-Application or with clusters or strip lashes

Net weight: 5ml/0.17fL.oz

Shelf life:

6 months unopened

and

1 month once opened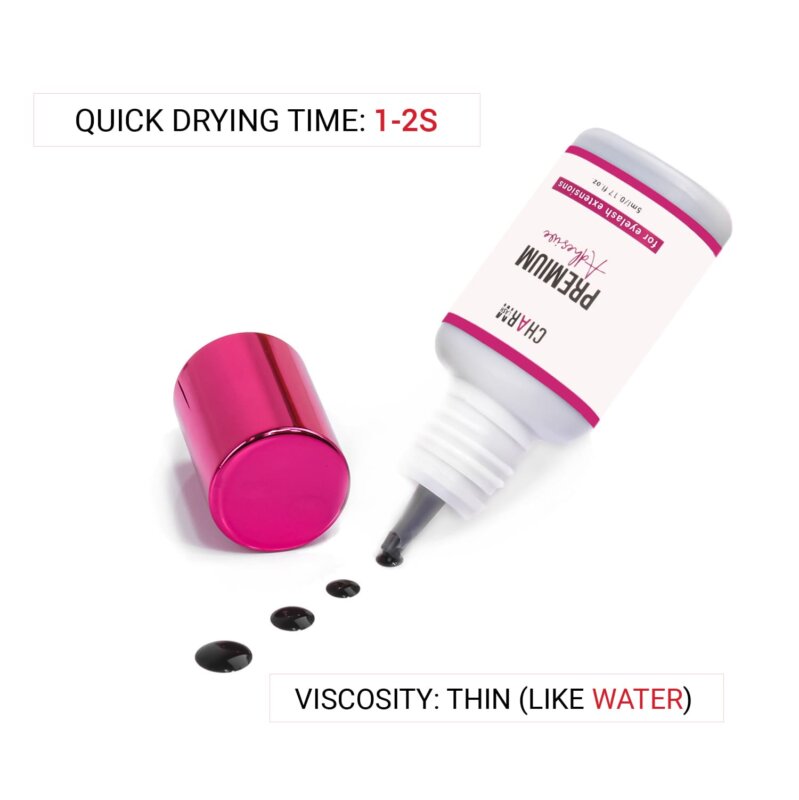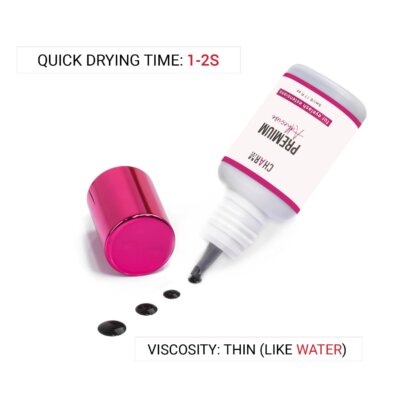 Eyelash glue wholesale supplier – Ingredients
Ethyl 2-Cyanoacrylate, CI 77266/ Carbon Black
Here are the things that you should acknowledge about ingredients in lash glue and how they function before buying bulk from eyelash glue wholesale supplier
Basically ,eyelash extensions adhesives are made of cyanoacrylate and other components including PMMA and Carbon black. In particular, 
Ethyl is the most common type of Cyanoacrylate which

is the major component of all professional lash adhesive (80-90% in glue) and holds accountable for bonding Simple put, Cyanoacrylate is what causes the extensions to adhere and stay bonded with the natural lashes. It appears as a liquid from start, but when exposed to the humidity in the air, it hardens into a solid form. The higher amount of Cyanoacrylate , the quicker a glue will dry. Actually, Cyanoacrylate has several derivatives including ethyl, methyl, butyl, octyl…, in which ethyl is the most common type of cyanoacrylate used in all lash glue on the market. This variation of cyanoacrylate is preferred by many advanced lash tech thanks to its fast drying time and strong bond.

PMMA

is a acrylic resin that is compound around 5-10% in the glue. It plays an important role in reinforcing the Cyanoacrylate and thus to create a long-lasting retention as well as ensuring that the extensions remain in place. 

Carbon black

accounts for a slight amount of lash glue, making the adhesive appear in deep black color. It is the heaviest ingredient, so it will sit at the bottom of the bottle  when not shaken.
Eyelash glue wholesale supplier – Shelf life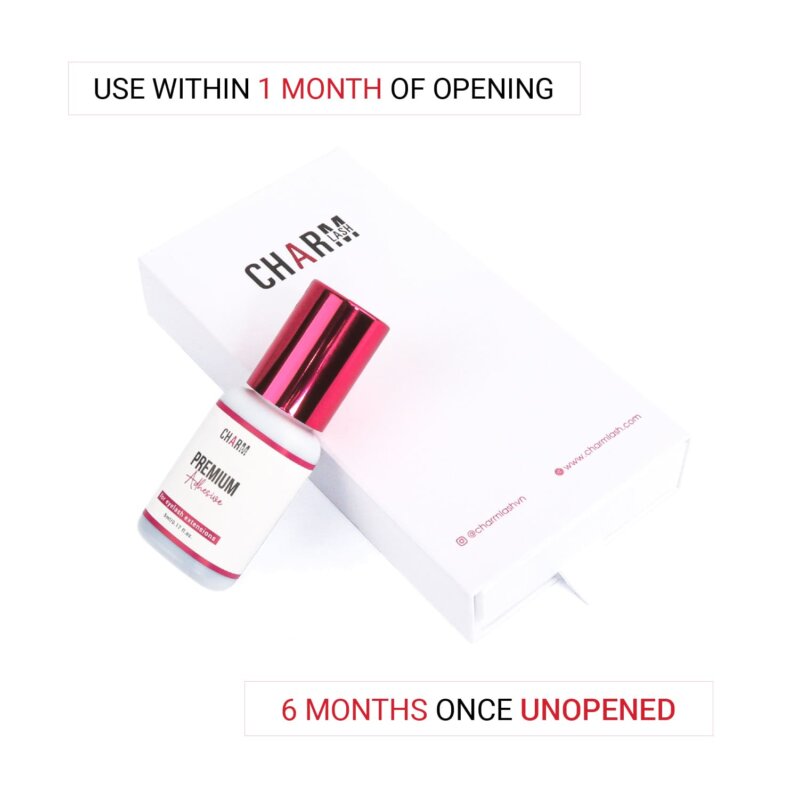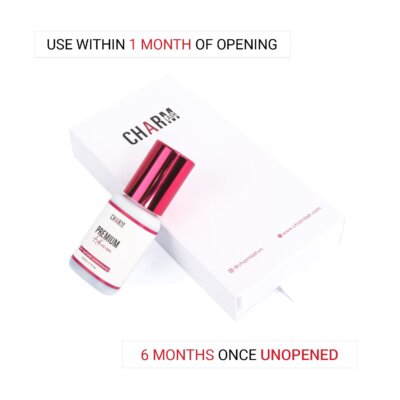 A bottle of lash adhesive can last up to 6 months unopened if stored properly. Once opened, the expiration date is one month only. If you find your glue stringy or thick, it's time to say goodbye to it and get another new one. 
Eyelash glue wholesale supplier – Storage Requirements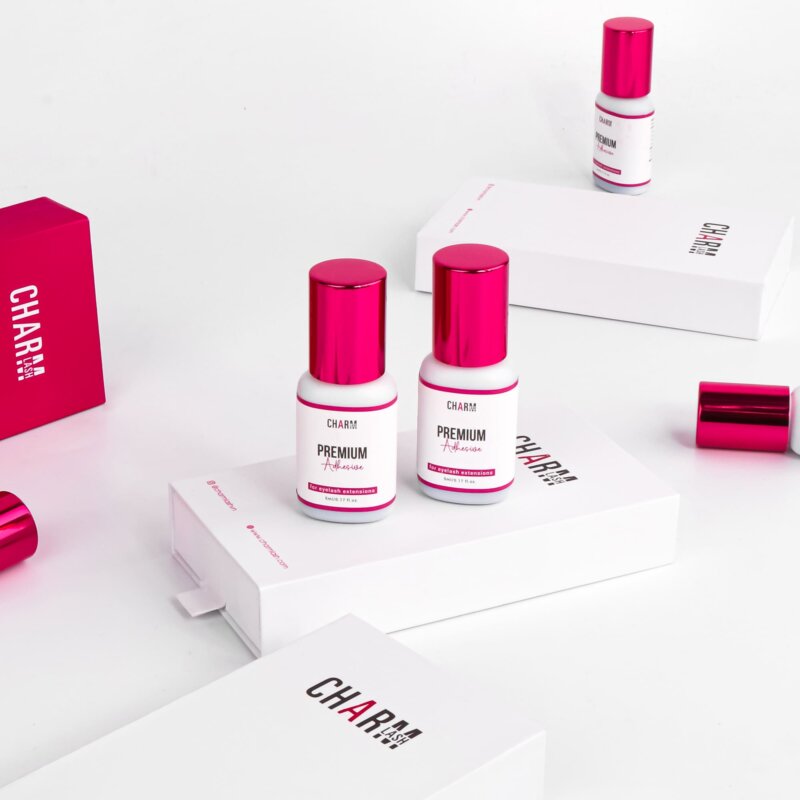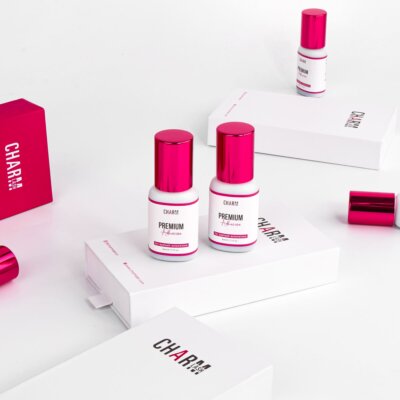 The shelf life of a bottle of lash adhesive depends much on how you store it. In order to make the most out of your eyelash glue,you need to make sure to store it correctly. Here are the following requirements you might need to keep in mind. 
Keep container sealed while not in use

Avoid direct sunlight and keep dry 

Keep indoors, in a cool and well-ventilated area 

Keep away from sources of heat 

Unopened glue can be stored in the refrigerator, but it is recommended to use them after putting them out at room temperature for more than 2 hours before using them. 

As the glue bottles are specifically made for glues only, so it should not be moved to anything else such as normal plastic bottles or glass containers, which might reduce the glue's performance.

If you buy wholesale lash adhesive, we recommend that you should buy a specific refirigerator to make sure your glue is stored in the most fravorable condition.
How to use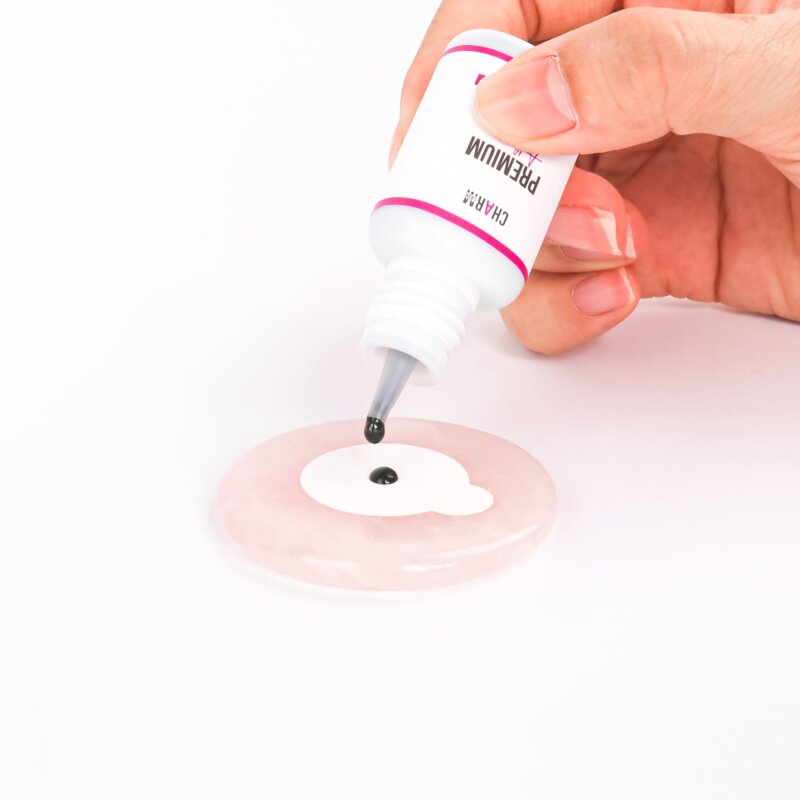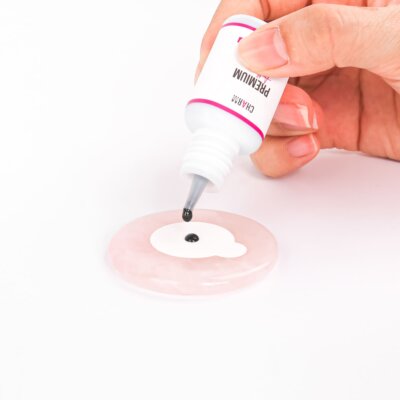 This eyelash adhesive is designed for professional use only, DO NOT use it for Self-application, strips or cluster lashes. It is highly recommended for classic technique and all types of lash extensions. If you're a beginner, here are a few steps you'll need to follow to make sure that your client's lash extensions are not going anywhere.
Remove the cap, place the glue pin in the nozzle

Shake vigorously for 1 minute before use so that all ingredients are well blended

Pour enough of desired glue onto the lash jade stone

Grab a small bead of glue on the extension and place immediately onto the natural lash. Do NOT paint, or swipe.

Burp the adhesive after each use to avoid air bubble

eyelash glue wholesale supplier
Pro tips:
Replace glue drop every 10-15 minutes since the glue will react with the humidity in the air, which will become stringy then lower the glue's performance.

Product must only be used on completely closed eyes throughout the application to avoid the eye irritation,

Dip the lash in the middle of a glue droplet since it dries from the outers 

After bying bulk from eyelash glue wholesale supplier, glue bottles must be used in a well-ventilated work environment and free from exposure to direct sunlight.

Use under eye gel patches or medical foam tape to minimize fumes.

Patch test is required before using this product. Although the lash extensions allergy is not common, it's necessary to take a patch test known as short trial of the official eyelash full set application to avoid any inconvenience. 

Read proper instructions on the back of the label before use.

During hotter weather or higher humidity, we recommend that you may want to instead dispense glue onto a shiny surface such as the removable backing tape of the under eye gel pads, this will limit the amount of moisture absorbed from the tape and prevent it curing too quickly on your jade stone/glue ring.
Usage
Our Premium adhesive helps your lashes cling to the natural lash until they shed naturally, allowing you to take your retention and application to new heights.
Caution
While eyelash extensions glues are fairly safe to wear, there is still a case of having a reaction. Thus, precautions should always be taken to avoid any allergy. As an experienced eyelash glue wholesale supplier, we get you some recommendations that you must be careful when using eyelash glue 
Use only as directions
Use only as directions

Do not swallow 

Keep out of reach and sight of children 

Avoid contact with skin and eyes. If contact occurs, do not force your eyes open. Flush eyes with water for 15 minutes and get advice from doctor.In case of skin contact, rinse contact area with water and seek medical attention.

Avoid breathing in the fume.If inhaled, move to fresh air. Seek medical assistance if symptoms persist. 

Be mindful that lash extension adhesive fumes may cause an allergic reaction to certain people. 

Some customers might be sensitive to chemicals and therefore have an allergy for glue, a thorough counseling is needed before the actual extension process. Always patch test your client 24-48 hours prior to their treatment. For allergy test, put a little bit of glue on the back of their ears or see if they have any allergy reactions after 20-30 minutes from the test eyelash extensions (about 5-6 lashes)
Origin
Made in Korea
Whether you're looking for a fast-drying glue or standard drying eyelash glue wholesale supplier, we have our back! As one of the eyelashes wholesale manufacturer, we acknowledge the importance of not only eyelash making process but also wholesale lash glue production, thus we handpick the high quality material as well as examine every single phrase of production to produce lash liquids your clients will be absolutely pleased with.