Flat lash DD/D+ curl
Ellipse lashes are also known as flat or cashmere lashes. Ellipse means oval and is indicative of the shape that the base of the lash extension possesses. Instead of having a round, circle base, like a normal classic clash, ellipse lashes have a flatter, oval base. A flat base means a larger, wider surface area of the base, providing an effective bond with natural eyelashes. The better bonding, the longer lashes will stay in place. They're ultra-lightweight (weigh less than half of what classic lashes do), so they are an amazing option for classic lash sets to create a more dramatic, bolder look with less weight. The wide base gives an impressive eyeliner effect along the lash line by filling and correcting the gaps between natural lashes. In addition, the split tips of each lash delivers an instant double volume effect. This makes flat lashes ideal for clients with damaged, thin and/or short natural lashes but desired for a darker, thicker look. Flat lashe are used as spikes in your volume sets to create Kim K lash style.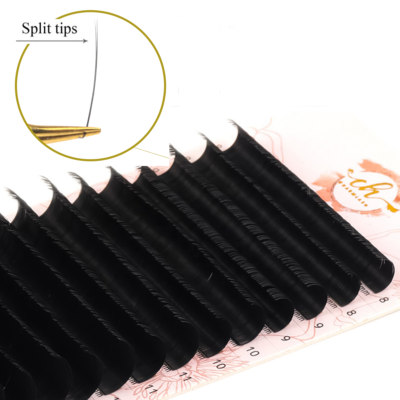 DD/D+ is a curlier version of D curl. It is created for customers who want a fluffy set of extra curly lash extensions.
Our flat eyelash extensions are made of soft synthetic fiber called Korean PBT (polybutylene terephthalate) which is well-known for being strong, flexible and 100% cruelty-free. We handpick the high quality material as well as examine every single phrase of production to produce lashes you clients will be absolutely pleased with. You can take a look at some our lash key features below: 
Flat at the base

Super soft, split-tip with a fluffy effect and a matte finish

Made of soft, ultra-lightweight Korean PBT fiber

Vegan, 100% cruelty-free, latex-free, formaldehyde-free

Effective bond, increased retention

Perfect for damaged, short, or fine natural lashes

Create a thicker lash look with less weight

Ideal for Kim K lash style

Easier applications

Come in a variety of curls, thicknesses and lengths