When it comes to eyelash extensions tape, we often think about the adhesive tape that is used to tape down the bottom lashes during the lash procedure. However, in this blog, as an experienced mink eyelashes wholesale manufacturer, we will take you to a totally new level in the lash world that not many lash manufacturers mention to – Glue tape that adheres the eyelash extensions to the backing to make a perfect lash extension strip.
1. What is the eyelash extensions adhesive tape?
mink eyelashes wholesale
Like eyelash material, this kind of adhesive tape plays an important role in the process of making eyelash extension trays. Simply put, it is just a double-side adhesive allowing the extensions line and the backing to be bonded together. This adhesive must be both sticky and versatile to function well as it is supposed to be. The side that is exposed on the backing must be strong enough to prevent the lash extension strip from being pulled off when the lash artists grab a large amount of lashes. Meanwhile, the top side should be tailored perfectly to make it easy for each lash artist to create lash fans while also holding lash fibers in place on the lash strip.
Working in the lash industry for many years and providing the high quality lashes to many top beauty brands over the world, we've been acknowledging and constantly improving our service to meet every beauty taste and style. Besides offering cruelty-free mink eyelashes wholesale in a wide range of materials, curls, lengths and thicknesses, we also customize glue tape as requested. If you're looking for an experienced faux mink eyelashes wholesale manufacturer doing glue tape customization service, you come to the right place. Look at the table below to find your perfect match. 
2. Types of eyelash extensions adhesive tape
mink eyelashes wholesale
Here we're going to break down some information to help you understand more about how each glue tape works.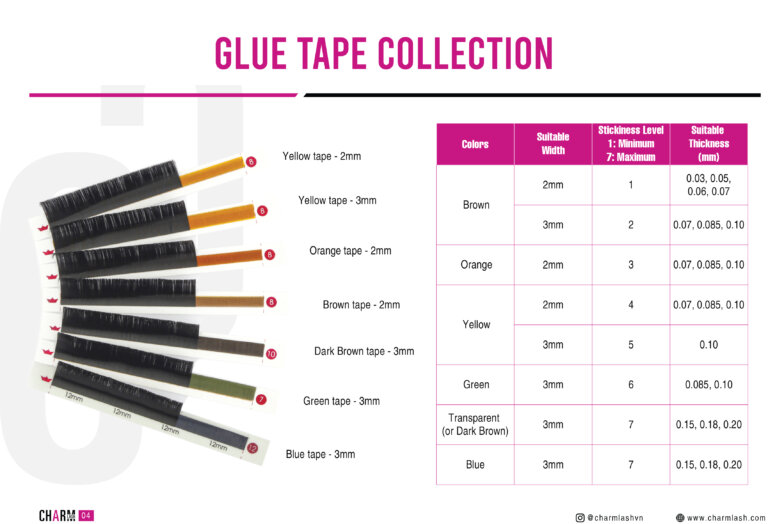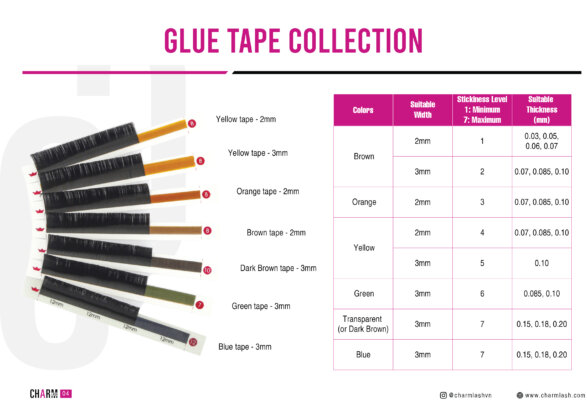 Brown tape (2mm and 3mm

) : Specially designed with a moderate bonding power for lightweight lashes (0.03mm, 0.05mm 0.07mm, thickness) Brown tape is a good option for lash artists who make volume fans and mega volume fans by pinching and flower boutique technique since lash techs can grab a large desired amount of lashes with ease. 

Orange tape

: Orange adhesive tape is a bit more sticky than brown tape. It is suitable for lash artists using the lonely fan method, wiggle method and rainbow method.

Yellow tape (2mm and 3mm

):Technically, Yellow tape works the same as the orange tape. However, with the higher level of stickiness, it can be more sticky and hold lashes better, making it easier for lash artists while making fans. Yellow tape is mostly used for lash extensions of 0.07mm, 0.085mm, 0.1mm in thickness.

Green tape

: Like the two tapes above, Green tape is highly recommended for lash artists who use lonely fan technique, wiggle technique and rainbow technique to do volume and mega volume application. This tape is designed for lashes that are 0.085mm and 0.1mm thick.

Dark brown tape: With an amazing bonding power, Dark brown are mostly used for classic lashes with the thickness including 0.15mm; 0.18mm; 0.2mm. It is suitable for 1:1 application.

mink eyelashes wholesale

Blue tape

: Technically, this tape performs quite similarly to transparent glue tape. It can be a great alternative if you don't want to use transparent adhesive tape.
*Note: You can switch between the two sizes of glue tape (2 mm and 3 mm), depending on preference. There is no difference in the power of stickiness, but the bonding surface will affect the performance of adhesive tape. The larger the area of contact between the lash extensions and the adhesive tape, the stronger the bonding power!
We included this video below so that you can view more about our glue tape collection:
Now you might understand how the lash adhesive tape works. We hope this guide can help.If you want to get to know more about eyelash extensions, hit our other blogs here