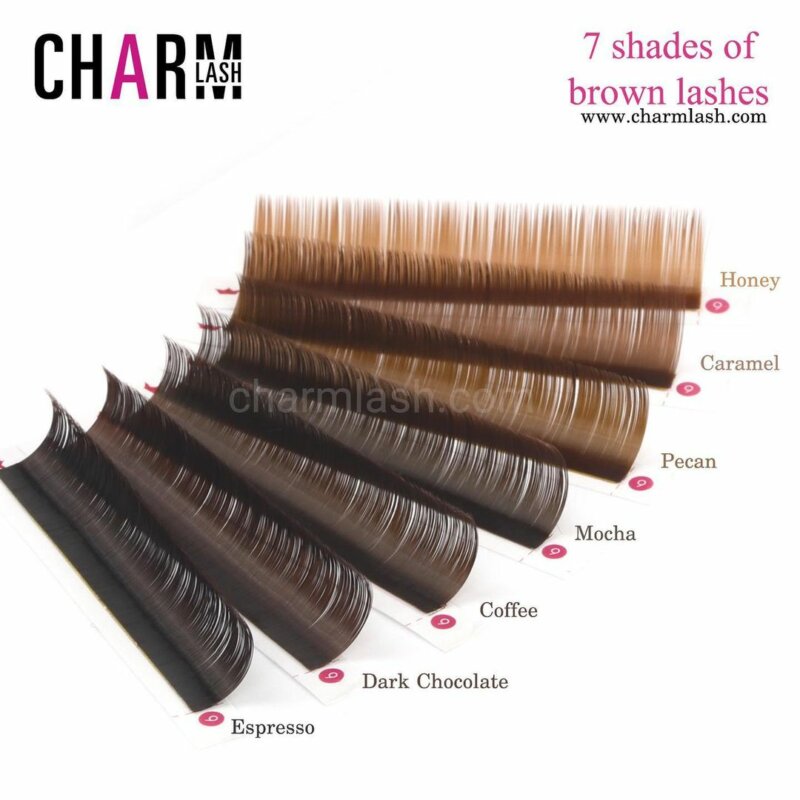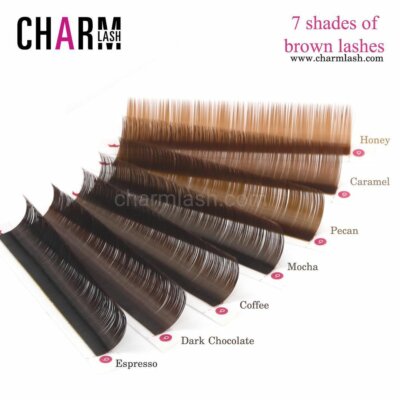 Brown lash extensions are on trend again. If you're a fan of brown, you will never miss out on our newest brown lashes collection!
1. Brown lash extensions
Brown lashes are one of the most classic, rich colors and never go out of fashion. They're literally suitable for everyone. However, customers who are blessed with light skin tone, blond and redhead clients-mature clients or those who get bored with regular black lashes yet still looking for a natural lash set will benefit much more from this warm classic lash color. 
2. How to choose your right brown lashes
Discovering the brown eyelash collection is crucial before going brown. The best color for brown is the shade brown that components your skin tone and eyes while giving you that ravishingly beautiful look. Check out our new collection to find your best suit!
Honey brown lash extensions
The perfect light color of Honey brown color lashes are a huge plus for clients who are blessed with fair skin, blonde hair or auburn hair. It helps to enhance the beauty and define lashes for a natural looking finish.
Shop for Honey Brown eyelash extensions
Pecan brown lash extensions
No matter what shade of brown you choose, the brown color of Pecan is always one of the most classic yet charming colors. It's an easy lash color for most regardless of skin tone, creating a stunning effect.
Shop for Pecan Brown eyelash extensions
Caramel brown lash extensions
Caramel lashes are as sweet as it sounds. This shade of brown can work magic for ones who have a light skin tone, offering the best rich depth and multi-dimensional lightness.
Shop for Caramel Brown eyelash extensions
Mocha brown eyelash extensions
A cup of Mocha can provide an almost instant energy but a set of Mocha lashes can give you an instant glamor beauty.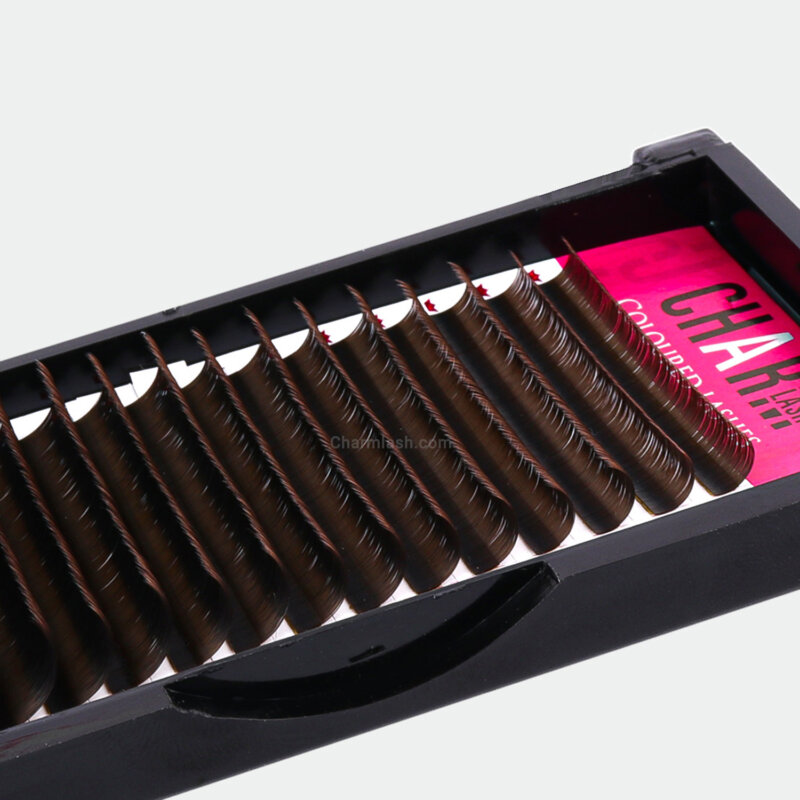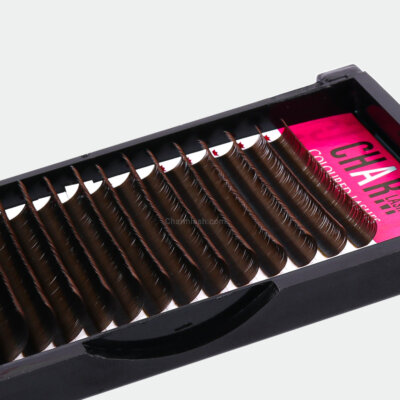 Shop for Mocha Brown eyelash extensions
Coffee brown lash extensions
Coffee brown lashes are worth trying when you decide to go brown. With a high level of brown, coffee colored lashes are a wise choice for first -time clients. It literally suit every lash lovers without exception.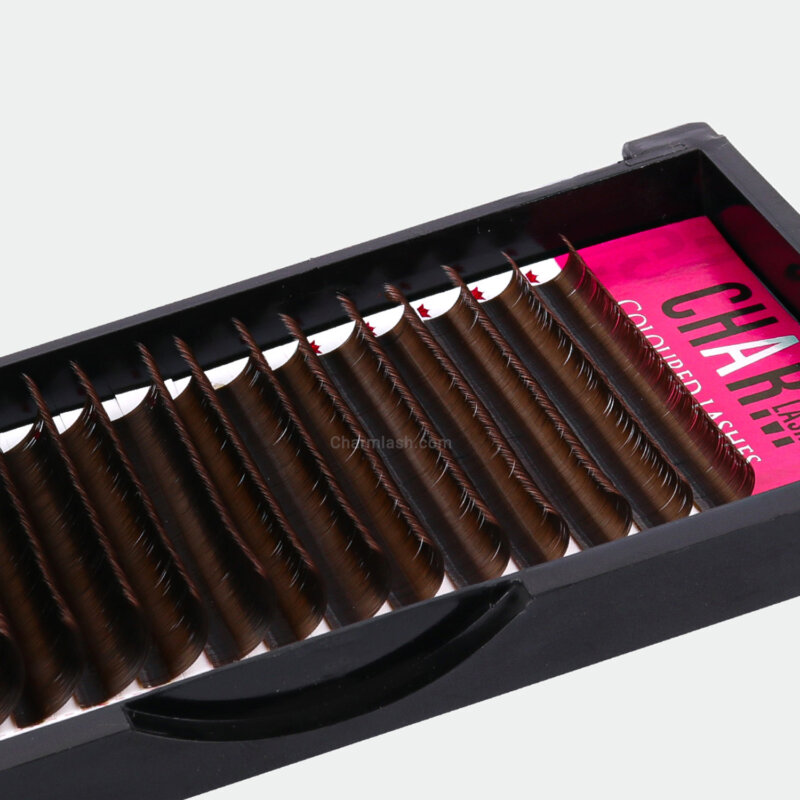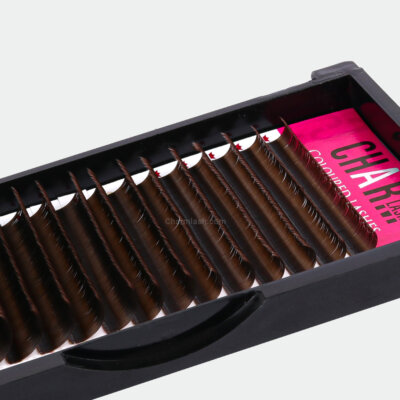 Shop for Coffee Brown eyelash extensions
Dark chocolate lash extensions
If you have a warm under skin tone, brown shade like dark Chocolate will look fabulous on you. It provides a bold look but still maintains a classic appearance.
Shop for Dark Chocolate Brown eyelash extensions
Espresso brown lash extensions
When you have a lighter skin and light color eyes, it's safe to go pretty dark and our final darkest shade of brown – Espresso will be a perfect alternative to enhance the natural beauty without being too dramatic like black lashes.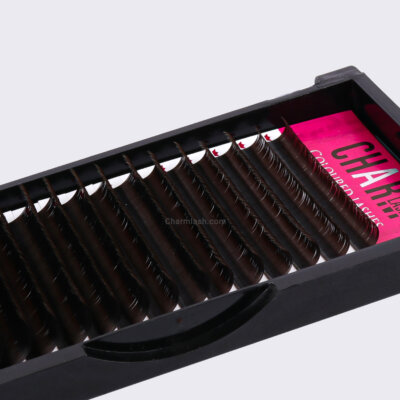 Shop for Espresso Brown eyelash extensions
Americano brown lash extensions (Two-tone brown lashes)
If you are still hesitant to rock your lashes with a full set of brown color,try our Two-tone brown extensions. The light brown of the tip is the gorgeous contrast to the black root, creating a unique lash set than ever. 
Shop for Americano – Two-tone Brown eyelash extensions
As one of today's hottest beauty trends, brown lash extensions are in high demand. Adding brown lashes as an option to your service offerings can surprisingly help you to meet the needs of your clients. Hence, you can attract more clients, get more income, gain more social media-worthy as well as expand your business.If you're looking for a high-quality wholesale supplier provide a wide range of lash extensions with free design private label service, We have your back!Our Brown eyelash extensions are made of soft synthetic fiber called Korean PBT (polybutylene terephthalate) which is well-known for being strong, flexible and 100% cruelty-free. We handpick the high quality material as well as examine every single phrase of production to produce lashes you clients will be absolutely pleased with. 
Key features of Brown Extensions:
Made of soft, light-weight Korean PBT fiber

Vegan, 100% cruelty-free, latex-free, formaldehyde-free

Dense, knot free, no kink

Stable curl: Lashes are durable and hold curl over time

Come in a variety of shades of brown

Customize  curls, thicknesses and lengths
Ready to try brown lashes? Hit the Shop button on the menu bar and grab yourself your favorite shade!
You can read more blogs here
Below are some related products you might be interested^^